Our school is participating and you get to be a part of it! We meet once a month in the library during lunch.
What is it?
Book Blitz is a literacy competition for 6th-8th graders designed to encourage reading outside of the school curriculum. Students read books from a selected list, form teams, and compete using their collective knowledge of the content of the books (Jeopardy style). The winners of our school level will participate in a district wide competition. 
What do I do as a student to participate?
1 – Pick 4-5 team members and choose who reads which books. Decide on your team name and make sure it is approved.  If you need help with team members ask the librarian and we'll get you on a team. 
2 – Read books from the book list: Students can get books from our school library or public libraries. You can partner read with friends, read as a family, read on your own, or listen to the audio book. You do not have to read all the books on the list to participate.  Your team, collectively, will read all the books. Please take notes on the books as you read them.  It will help you remember months later when we have the competition.  Ms. Miles has some bookmarks and reading strategy papers in the library as well as this interactive notebook to help you. 
3 – Be ready for our school competition in the spring of 2024.  Eastmont Book Blitz competition date is 4.8.24 and the Canyons School District competition is tentatively scheduled for 4.10.24.
4 – Play the games and practice quizzes on the google classroom: sign into "csddocs", click "student", then click the top right "+" and put in the code: jmqcvuv.
History.  CSD librarians named our competition Book Blitz.  We come up with our own list of current/popular books and generate questions for the competition.  We love encouraging self-directed reading, teamwork building, utilizing reading strategies to aide comprehension, culminating in the Spring competitions where their evidence of learning is demonstrated.
In the past, we followed America's Battle of the Books (using their program and many of the books they selected). The librarians at each school will help ensure the program stays intact with teams and organization. 
We encourage students to read, take notes, utilize the digital notebook and google classroom.  Individually students are encouraged to  read their assigned books, take notes and annotate them. #eastmontreads
Once a month we also meet for Brown Bag Book Club during lunch, we talk about genres and share books we've read.  Bring your lunch from home or from the lunchroom; we will provide a treat!
High 5 Reading Award Each Term
Read five books each term
Fill out the card and return it to the library
Come to the library during the announced TA to receive a "High 5," certificate, and pick a book
BONUS option: complete the focused note taking challenge on the back for an additional reward
River of Reading Wall Display
New this year! The purpose of "The River of Reading" is for students and teachers to share their favorite books and build a reading community. The teacher book recommendations are taped onto the dark blue strip of paper along the bubble glass and the student recommendations are just underneath. We are including the genre book clubs into this effort of spreading recommendations by having each month's different genre on different colors of paper. We hope students will enjoy reading some suggestions from their friends and teachers by participating in the River of Reading wall.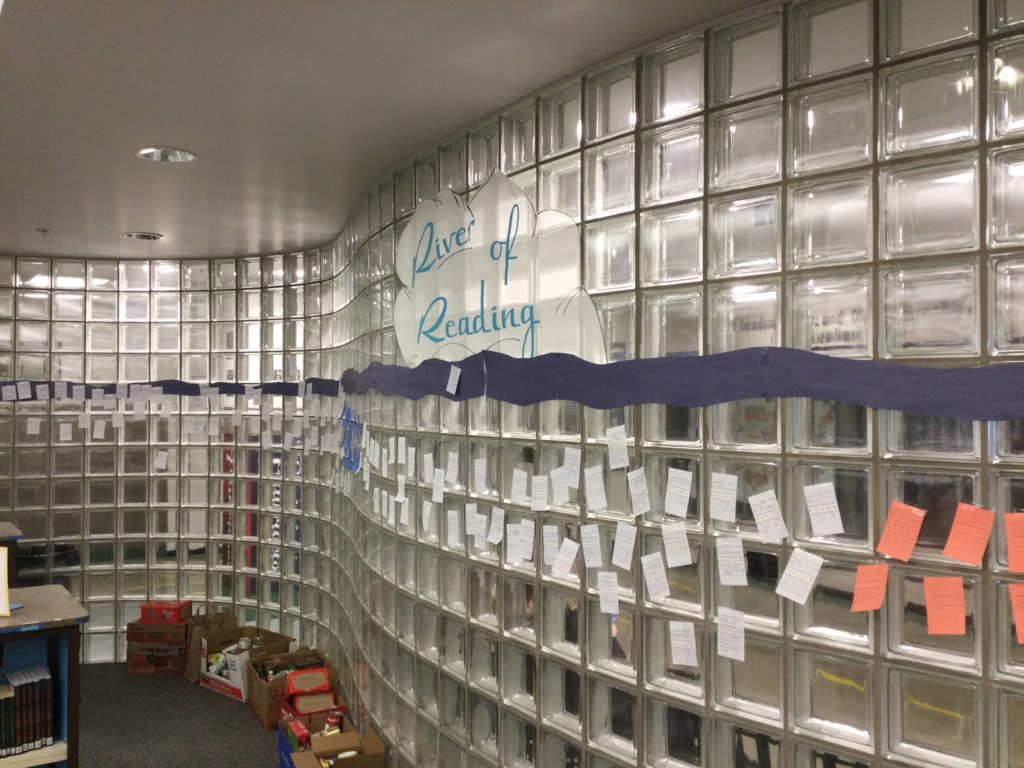 This an annual event at Eastmont thanks to a parent volunteer: Sara Anderson, former PTSA President at Eastmont and we now continue with it in her memory. We allow the opportunity for students to swap their own personal books for other students' books before the break. Hopefully they will find something they'd like to read during the break and find a good way to recycle books they no longer need or have outgrown. We donate the remaining books to charity before the end of the year.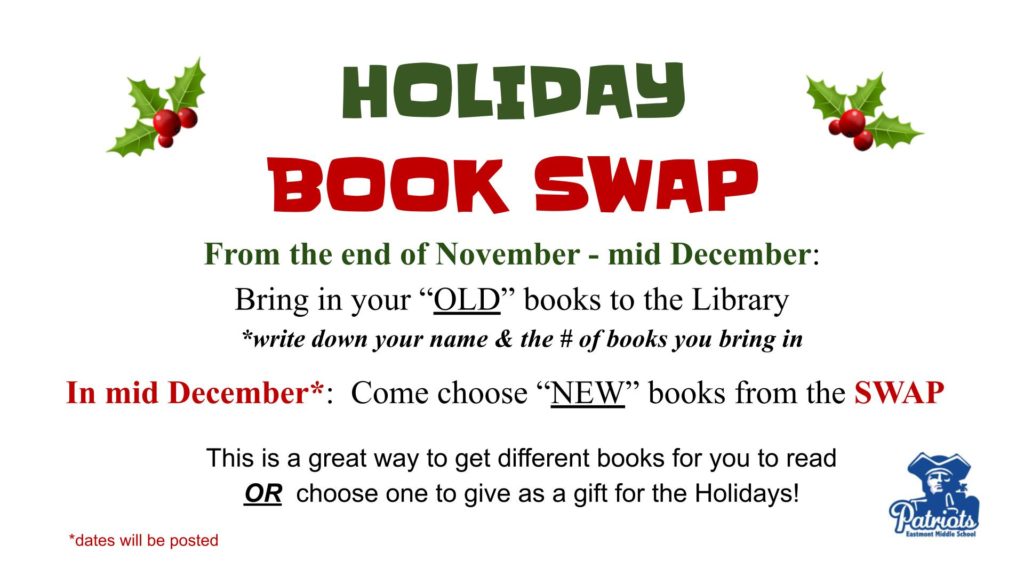 HOLIDAY BOOK SWAP
From the end of November – mid December: Bring in your "OLD" books to the Library
*write down your name & the # of books you bring in
In mid-December*
Come choose "NEW" books from the SWAP
This is a great way to get different books for you to read OR choose one to give as a gift for the Holidays!